In the mark of an increasing digitization of the agribusiness, Nor-Feed launched "Stop Heat", a mobile application that evaluates the level of heat stress in farm animals and proposes the best strategies in terms of livestock management, nutrition and antioxidant intake.
A connected tool to fight against heat stress
The mobile application, now available on iOS and Android, was presented during the French Tech Congress organized in Vietnam, with the venue of the French Prime Minister, Mr. Edouard Philippe, in November 2018.
The event brought together new entrepreneurs, French and Vietnamese start-ups.
The application matches the increasing digitization of livestock trades.
Paul Coquelin, Area Manager of Nor-Feed based in Vietnam, says: "The Stop Heat application allows to diagnose the level of heat stress of the animal based on breeding criteria identified by the nutritionist or veterinarian, and makes recommendations in terms of livestock overall management, optimization of nutrition and antioxidant intake."
Heat Stress, a major issue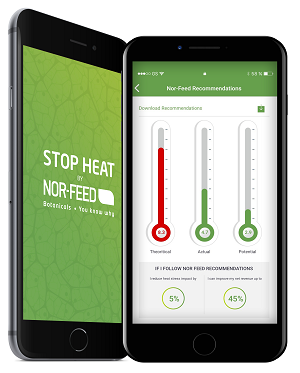 Heat stress is responsible for the oxidative stress, a rupture of the oxidative balance which provokes irreversible consequences on the health and the performances of farm animals: loss of production, decrease of the quality of the finished products (meat, milk, and eggs), decreased well-being, etc.
The application can be downloaded on Android and iOS platforms.
About Nor-Feed
Since 2003, Nor-Feed invents, manufactures and markets natural plant extracts for animal nutrition and health. Nor-Feed is focused on a short product portfolio; our products are standardized, documented and efficient, with sustainable development principles. Nor-Feed provides its clients with technical, marketing and regulatory support.
CONTACT: Sélim El Amouri | T: +33 (0) 2 41.93.34.36 | selim.el-amouri@norfeed.net