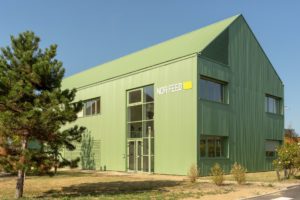 Nor-Feed was established in France in 2003, in the heart of Anjou, the medicinal plant production area. Nor-Feed concept was born with the vision that Synthetic growth promoters used in animal nutrition would be questioned in the future and efficient alternatives should be offered to breeders and nutritionists.
The R&D programs established in partnership with research institutes and laboratories recognized for their plant knowledge, both at a regional and European level, allow the development and documentation of a concise portfolio to propose efficient and natural solutions for animal health and nutrition.
Our portfolio consists of 4 product-ranges: Nor-Grape® (grape extract), Citrozest® (citrus extract), Norponin® (saponin-containing plants) and Nor-Oleum ("Natural essential oils").
The company developed through several partnerships, controlled by Nor-Feed Holding, to create joint ventures. Nor-Feed Production was born from the association between Nor-Feed and Adatris Anjou Plantes, a medicinal plant production cooperative and is in charge of the Nor-Feed industrial tool. Nor-Feed Production is located in the aromatic and medicinal plant production area, in a region called "Chemillois". In 2016, Nor-Feed created its first Asian subsidiary, Nor-Feed Vietnam.
Today, the group gathers more than 30 collaborators and Nor-Feed products are sold in approximately 30 countries in the world.